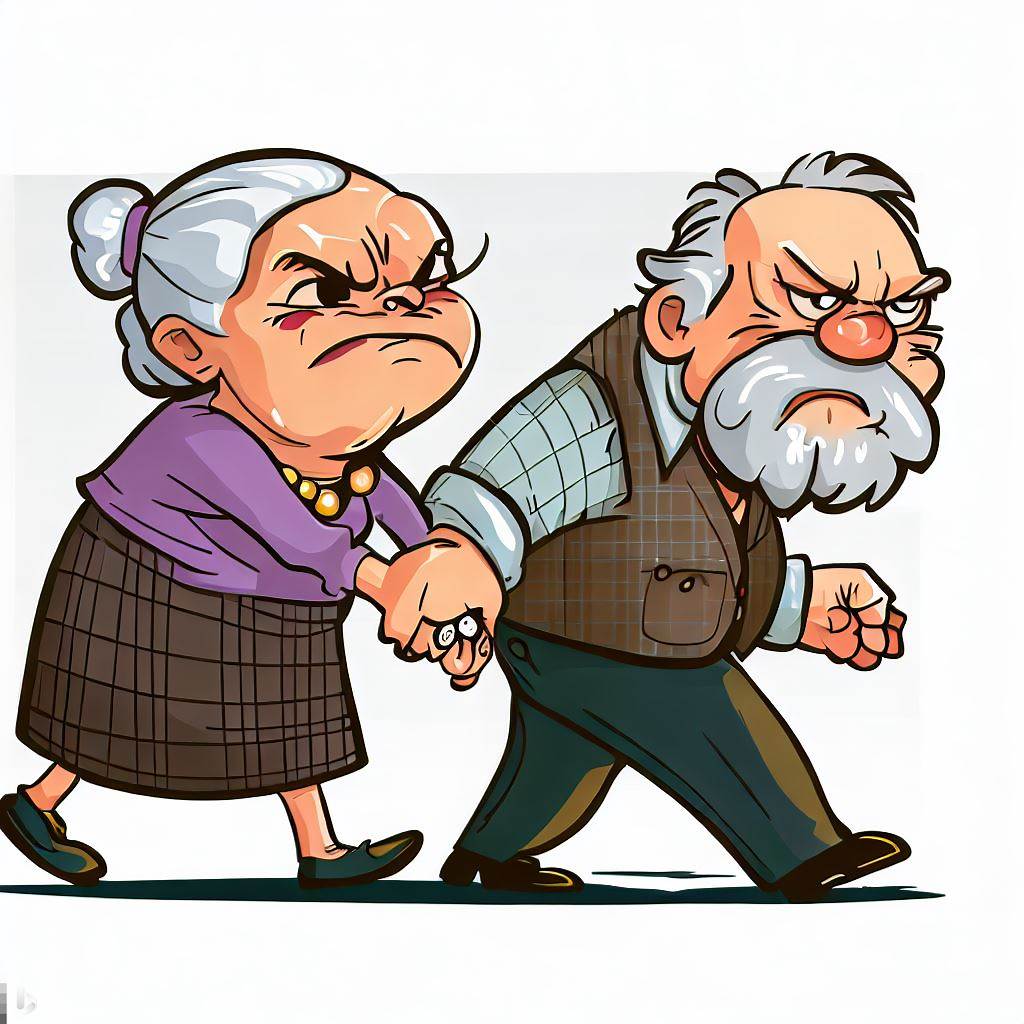 Apple, Nvidia, Meta, Alphabet, Microsoft, Amazon, and Tesla have now been penned as the "Magnificent 7." Only around 25% of the S&P 500 stocks have outperformed the benchmark, while these stocks continue to show massive leadership.
The Nasdaq is up around 15% year-to-date, outpacing the S&P. Smaller-cap stocks have struggled way more. The Russell 2000 is flat this year, largely because bank stocks have dealt with significant deposit outflows. 
Some say that tech has led every market rally so who cares if only 7 stocks lead the charge. I agree with that statement… to a point. Those of us who have a family–an Economic Modern Family, that is–know that watching small caps and retail is the best way to assess how long tech can rally and lead for.
In the AI-generated cartoon above, both Grandpa Russell (IWM) and Granny Retail (XRT) are looking a bit disgruntled. More importantly, the trading range prediction for this year, along with stagflation–well, it depends where you look.
Of course, SPY and QQQ are outpacing, thanks to tech, AI, and our 7 huge winners. Look at IWM and XRT (along with transportation, biotechnology, even Bitcoin with its $10,000 range). All are naggingly in that trading range. That is stagflation. XRT and IWM are not only stuck, but they are also teetering if neither can rally from here.
We love to zoom out to a monthly view. The chart above shows our 80-month moving average (green), which represents a 6-to-8-year business cycle. We could call it our soft-landing barometer. 
Grandma or the consumer is holding on after last Friday's bounce — but marginally, unless it clears 60.00. IWM is further up from the 80-month MA, but nowhere near the 23-month moving average (blue) or the 2-year business cycle or period of growth. We could call that our GDP and inflation indicator.
Yes, SPY, QQQ, SMH (Semiconductors) have cleared into a shorter-term business expansion cycle. SPY just cleared in June while NASDAQ and SMH cleared in May. Now, all eyes are on our patriarch and matriarch.
---
For more detailed trading information about our blended models, tools and trader education courses, contact Rob Quinn, our Chief Strategy Consultant, to learn more.

"I grew my money tree and so can you!" – Mish Schneider
Get your copy of Plant Your Money Tree: A Guide to Growing Your Wealth and a special bonus here.
Follow Mish on Twitter @marketminute for stock picks and more. Follow Mish on Instagram (mishschneider) for daily morning videos. To see updated media clips, click here.
---
In this episode of StockCharts TV's ChartChats, Mish Schneider and TG Watkins (creator of the Moxie Indicator) sit down for a candid chat about working with other StockCharts contributors. Learn what TGs strategy for trading is, and how the the Moxie Indicator came to be. Mish shares her background and how she got started in the industry.
With Congress having reached a deal after months of debt ceiling talks, what direction could the US dollar move in, and what could this mean for the USD/JPY? Mish explores the market movements in this appearance on CMC Markets.
Mish joins Rajeev Suri of Orios Venture partners to discuss the trend toward a risk-on situation in this video on LinkedIn.
Mish weighs in on the overnight slump across the board on the benchmarks and where the momentum is heading on Singapore Breakfast, available on Spotify.
Mish explains how reversal patterns could come to the fore this week in this appearance on CMC Markets.
Mish joins Rajeev Suri of Orios Venture partners to discuss the possibility of economic stagflation in this video on LinkedIn.
Mish discusses how AI is being used to invest in this article for BNN Bloomberg.
Mish joins Rajeev Suri of Orios Venture Partners to discuss the implications of the debt ceiling deal in this video on LinkedIn.
Mish discusses the commodities to watch in this video from CMC Markets.
In this appearance on Business First AM, Mish covers business cycles, plus where to go for trades once the dust settles.
Mish and Caroline discuss profits and risks in a time where certain sectors are attractive investments on TD Ameritrade.
Powell eyes a pause, Yellen hints at the need for more rate hikes, and debt ceiling talks face challenges… what a way to end the week, as Mish discusses on Real Vision's Daily Briefing for May 19th.
Mish walks you through the fundamentals and technical analysis legitimizing a meme stock on Business First AM.
---
Coming Up:
June 6-8: Mario Nawfal Twitter Spaces, 8am ET
June 6: CMC Markets and Wolf Financial Spaces
June 8: Wolf Financial Spaces
June 22: Forex Premarket Show with Dale Pinkert
June 23: Your Daily Five on StockCharts TV
---
ETF Summary
S&P 500 (SPY): August 2022 high 431.73, and of course 420 now key.
Russell 2000 (IWM): 180 now must hold while still miles from its 23-month MA 193.
Dow (DIA): 23-month MA 337 pivotal.
Nasdaq (QQQ): 370 resistance, 350 now closest support.
Regional Banks (KRE): Right up to that 42.00 critical level and dropped.
Semiconductors (SMH): A drop near 138-140 would be a decent correction.
Transportation (IYT): 230 level is key, plus today a very small trading range/inside day.
Biotechnology (IBB): 121-135 range.
Retail (XRT): 60 key now as is 56.25.
Mish Schneider
MarketGauge.com
Director of Trading Research and Education